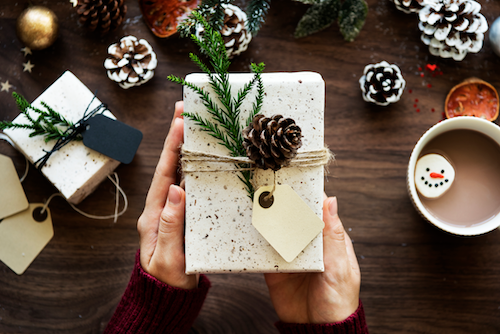 The holiday season has officially arrived, and brings with it a time for merriment, cheer and giving. Giving during the holidays is one of the most joyful experiences because you get the chance to share the love of the season. Whether you give to your family, friends or complete strangers—giving can warm you up from the inside out and build a more altruistic life.
Do you want more opportunities to give to your community? We've compiled a list of holiday fundraiser ideas to get involved in yourself or along with other altruistic causes.
1. Polar Plunge
Lots of nonprofit organizations and community causes like the Special Olympics will host a famous "Polar Plunge" during the winter months—a time when constituents actually volunteer to swim in freezing cold water. If you're the adventurous type and want to give back while still getting some fun exercise in, a polar plunge might be the perfect option for you. Or, branch out and see if you can get some friends together to host your own altruistic polar plunge.
2. Goods Selling
Candles, wrapping paper, cookie dough… there's lots of goodies being sold around the holiday season, and with good purpose! Who doesn't want their house to smell like pine trees while they drink hot cocoa and watch Christmas movies? If you want to raise some money for your community this season, selling goods is always an excellent choice. It's simple, easy to do and tends to have a high return on investment.
3. Ugly Sweater Party
Ugly sweater parties are always a crowd favorite during the winter months, so why not host your own? Put an altruistic spin on your ugly sweater party by asking for freewill donations to a cause you care about. Or, try hosting a competition for "ugliest sweater," where everyone pitches in, and the winner splits the earnings with a local organization.
4. Food Drive
The holidays can definitely be a tough time for some people, especially those who may not be able to provide holiday meals for their families. Get involved with or host a food drive in your community to raise food for neighborhood families in need. Or, try serving at a local shelter and help make someone's holiday celebration that much more joyful.
5. Caroling
Caroling is a fun way to bring cheer and raise money for others. Get a group of your family or friends together and go caroling around the neighborhood, in retirement homes or at different businesses. Not only will you brighten people's days, but you can also ask for freewill donations to raise support for a cause you care about.
6. Winter Run
If swimming in the cold isn't really your thing, maybe running is. Check in your community to see if any nonprofits are hosting a charity winter run. Or, for added fun, host your own! Run off that Thanksgiving turkey just in time for winter and fundraise some extra money for nonprofits in your neighborhood.
7. Seasonal Contest
Finally, what about some good ol' fashioned competition? Seasonal contests like gingerbread houses or building snowmen are a fun way to get large groups of people involved and raise a significant amount of money. If you want to put on a fundraiser for a cause close to you, seasonal contests are a great way to get started.
This holiday season, live a more altruistic lifestyle by trying out some of these fundraiser ideas you can get involved in. Whether you volunteer with a nonprofit or want to put on your own, fundraising over the holidays is one of the greatest ways to give back.