"No one who has served our country should ever go without a safe, stable place to call home."
US Department of Veterans Affairs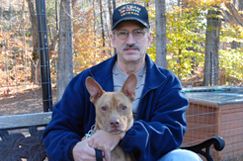 The Bridge House vows to accept all veterans who contact the shelter - no vet is ever turned away. In the past 18 months, the Bridge House served 35 veterans – providing shelter and helping them access a variety of services, such as job placement, relocation, family unification, and permanent housing.  The Bridge House is the only shelter welcoming a veteran accompanied by "man's best friend" - his/her pooch!
Veterans come to the Bridge House via a variety of paths.  They may be referred by a welfare officer, VA social worker, SSVF, other shelters, the police, hospitals, local churches, physicians, or they may walk in off the street. Veterans are connected immediately to services through a VA social worker, and a Bridge House case advocate meets with the vet once a week on-site. The Bridge House also connects vets to the following programs and services:
Supportive Services for Veterans Families – SSVF
Funded by the Department of Veteran Affairs, SSVF grantee organizations (such as Harbor Homes in Nashua, NH) provide eligible veteran families with outreach, case management, and assistance in obtaining VA and other benefits. Working with the Harbor Homes SSVF representative, the Bridge House provides temporary housing for veterans applying for a SSVF voucher.
Veterans Affairs Supportive Housing – VASH
The HUD-Veterans Affairs Supportive Housing (HUD-VASH) program provides rental assistance for homeless veterans as well as case management and clinical services provided by the Department of Veterans Affairs.
To better meet the needs of a veteran with a VASH, in 2013 the Bridge House fundraised $80,000 and remodeled its garage into a 750 sq. ft., one bedroom bungalow.  This space has been successfully rented by Vietnam-era veteran, Vinny P.  Renting his own place at Bridge House happened simultaneously with acquiring a new job, his "dream job."  Utilizing his culinary arts background, Vinny now cooks in the kitchen at the local senior center.
Medical Services
Littleton V.A., White River Junction V.A., Manchester V.A., and Mid-State Health (Plymouth)
Many BH vets receive services at the Littleton and Manchester Veterans' Administration (VA) Hospitals, the VA in White River Junction, Vermont, and through Mid-State Health, a federally qualified clinic in Plymouth, New Hampshire. Veterans can access dental care through the VA only if they are 100% disabled.  Mid-State Health offers a wide range of dental services through its affiliate in Bristol, New Hampshire. The Bridge House provides transportation when needed.
Vet to Vet
Vet to Vet is a partnership program that provides peer counseling from one veteran to another.  It is administered by veterans who themselves have used VA mental health services and have experienced trauma unique to the military. The Bridge House executive director attends all North Country Veterans Center leadership meetings regularly held in Berlin, NH. In 2012, her advocacy resulted in establishing The Bridge House campus as the regional site for regular Vet to Vet peer counseling and educational meetings. These are five-hour sessions with lunch served by the Bridge House.
Veterans Count - Easter Seals
Veterans Count is the philanthropic arm of Easter Seals Military and Veteran Services which provides resources and services to veterans, service members, and their families. Easter Seals Military and Veteran Services, in conjunction with Veterans Count, developed a one-of-a-kind program which has a proven track record of helping service members and their families with a wide range of family, personal, and financial needs. When Bridge House has been contacted by a veteran in need of assistance to stave off an eviction notice, Veterans Count can be relied on to save the day.
Advocacy and Resources for Veterans
MakeTheConnection is a valuable mental health resource for Veterans