The Bridge House shelter provides programs and incentives to help participants climb the ladder from homelessness to independence. Our comprehensive services include basic food and shelter as well as job training, financial skills, nutrition education and family planning. Local medical, mental health and dental care providers partner with The Bridge House to provide access to health services.
Participants work with a case advocate who helps identify core strengths that will enable them to succeed. Our goal is to help participants find solutions to life's daily issues. We encourage a healthy life style as well as good practices in budgeting, money handling, wise shopping and many other daily tasks.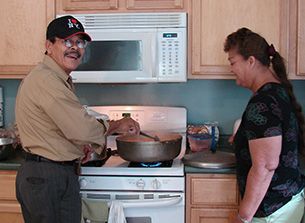 Plan of Action
Case advocates and participants work together to develop a Plan of Action or POA  — a signed agreement, unique to each individual, that sets out both appropriate goals and participant requirements for staying at The Bridge House. For example, a goal might be to attain subsidized housing. Requirements might include searching for a job, taking parenting classes or joining a substance abuse program.  Participants are expected to volunteer at the shelter or at Whole Village and to function positively in a community of 20 – 25 people who can range from infants to the elderly.  Finally, participants are asked to pay $25/week rent, once they start working, to encourage accountability.
The case advocate partners with participants throughout their stay to develop solutions for day-to-day issues as well as support their transition to permanent housing.